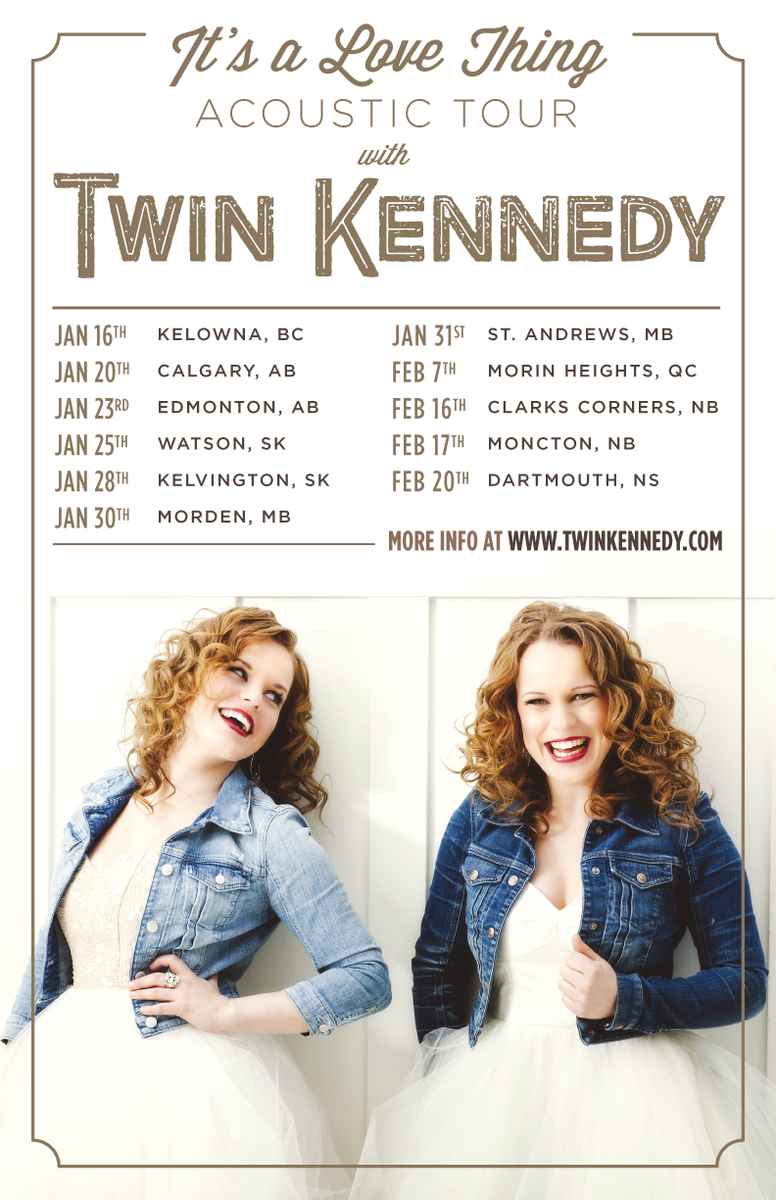 Their musical bond is as strong as their small town roots – Twin Kennedy, comprised of West Coast sisters Carli and Julie Kennedy, have been making music together since they could talk. Born and raised in the small town of Powell River, Twin Kennedy grew up perfecting their sibling harmonies and dynamic live performances, while making their name known throughout their small community as a family band.
Growing up in such a musically infused family, it is no wonder that these sisters crafted their sound through a unique fusion of their background in country, folk, jazz and classical music. With years of classical training, including their Bachelors Degrees in Music Performance from the University of Victoria, the sisters have found their home in country music. With Carli on vocals and guitar, and Julie on vocals and violin, these petite powerhouses will fill your soul with joy and warmth through their seamless harmonies and heartfelt songwriting. No bond compares to that of sisters, and the same is to be said about the blend of their kindred voices.
 With two EP's in their back pocket as Carli & Julie Kennedy, these sisters are set to debut their first LP as Twin Kennedy in spring 2015. Produced by multiple CCMA and JUNO award winning artist George Canyon and JUNO nominated producer Graham Sharkey, the album is a beautifully honest account of the ebb and flow of the navigation through love and life. From the uplifting opening track "Get Back Up Again" to the heartbreaking vulnerability of "That's What I Should Have Said" Twin Kennedy has compiled a track listing that is self-described as a true extension of themselves.
Music is as inseparable from their lives as they are from each other, "Everything starts as a duo. We write together, rehearse together, live together, hang out together, tour together. So much togetherness!" And together, these sisters have commanded some of the top stages in Canada and beyond including performances at Canadian Music Week 2014, Florida's 2014 Listening Room Festival, Sunfest, Merritt Mountain Music Festival, Vancouver Island Exhibition, the Vancouver Olympics, as well as the 2014 Live at Heart Festival in Sweden.
With seven BCCMA Award nominations since 2012, Carli and Julie have been a highly recognized duo throughout the West coast music community. When they're not touring from town to town on the Trans Canada, Twin Kennedy is often found writing and performing with Nashville's best. They had the privilege of representing Canada's Society of Composers, Authors and Music Publishers as the SOCAN Artist of the Month on the Billy Block Show, second only to the Grand Ole Opry and Midnight Jamboree as Nashville's longest running live radio show and concert series.
Now is the time for Twin Kennedy. Expanding from their West coast roots to take their music across Canada, 2015 will prove to be a year of transformation for the Kennedy sisters. New year, new name, new album – country music has found its newest sweethearts in Twin Kennedy.